Bulk Material Stockyard Introduction
The bulk material stockyard is a site for receiving, storing, processing and mixing materials. Bulk material stockyard is the main form of bulk material storage, which can be divided into strip stockyard and spherical stockyard(circular stocyard) according to the different storage structures. SRON provides clients with turnkey project solutions for bulk material stockyards from design, civil engineering, manufacturing, installation, commissioning to personal training. If you have bulk materials to store or want to know more details about bulk material stockyard, please contact us, we can provide you with customized bulk material stockyard system solutions according to your needs.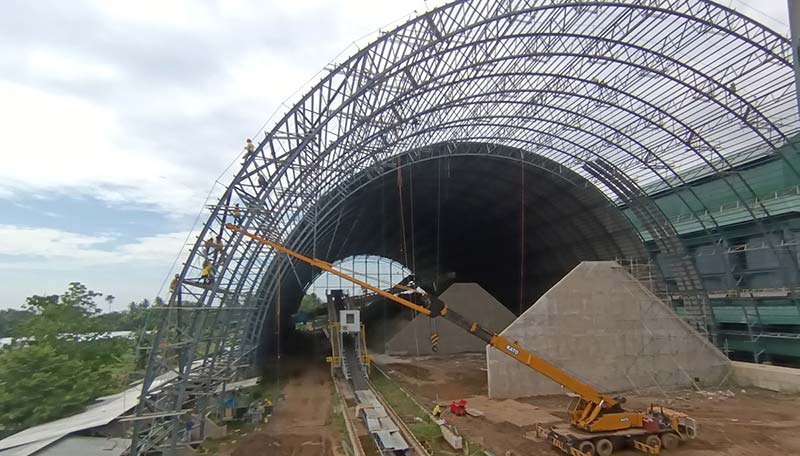 Strip Stockyard
In the conveying system of various industries, strip stockyard is responsible for the storage and distribution of materials, and has dual functions of storage and homogenization. Strip stockyard adopts a grid structure, and stacker reclaimer is used to complete the mechanized stacking and reclaiming. SRON can select and design stacking and reclaiming methods according to project scale, actual situation of clients and site conditions.
Equipment:
Reticulated Shell、Bucket Wheel Stacker Reclaimer、Belt Conveyor、Rubber Dust Curtain
Application:
Mainly used in ports, docks, mines, metallurgy, cement plants, coal storage yards, coking plants, steel plants, power plants and other bulk material storage yards.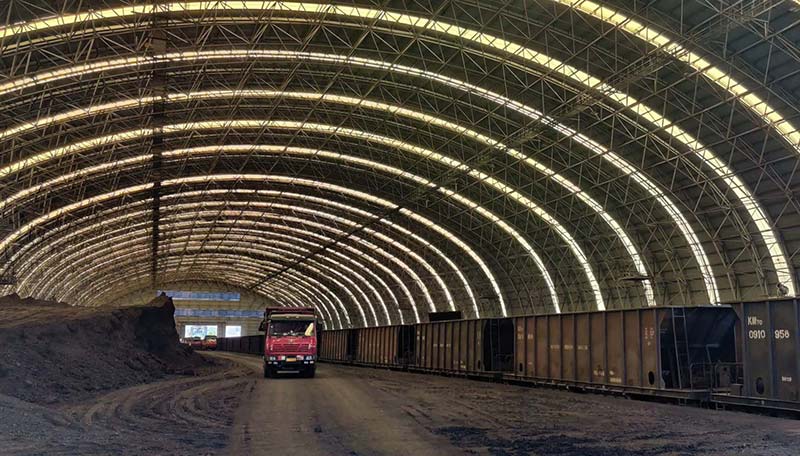 Features of Strip Stockyard
1. Less equipment investment, low energy consumption, low use cost and high production efficiency.
2. Reasonable structure and good equipment stability.
3. Good mixing effect and strong material adaptability.
4. Simple operation, safe and reliable, easy to realize mechanization and automation.
5. Easy to implement, low operation and maintenance costs.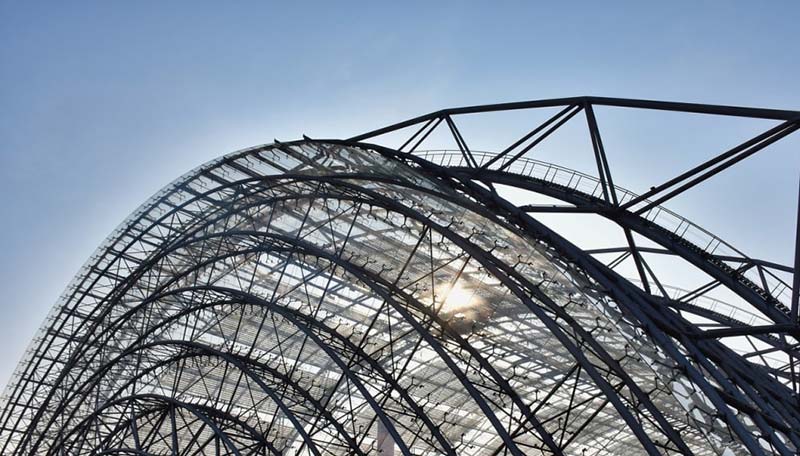 The top of circular stockyard is spherical grid structure and its bottom is reinforced concrete retaining wall. Circular stockyard uses central reclaimer to complete the stacking and reclaiming operations. The diameter of a circular stockyard is generally between 60~120m. The cantilever stacker at the top of the central column can rotate and pitch around the central column in a range of 360 degrees. Circular stockyard covers an area of circular shape, which is adaptable.
Equipment:
Circular concrete retaining wall, Steel structure space grid dome, Circular stacker and reclaimer, Belt conveyor trestle for loading yard and Underground discharge belt conveyor, etc.
Application:
Widely used in the storage and conveying system of bulk materials in industries such as electric power, steel, coking, ports, mines, and grain.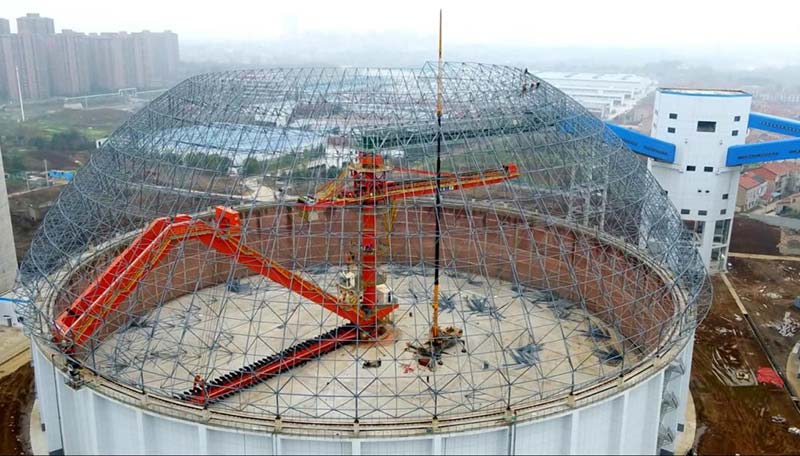 Features Of Circular Stockyard
1. Small footprint and high site utilization.
2. Advanced technology, safe and reliable operation.
3. Low investment cost, continuous and simultaneous stacking and reclaiming operations.
4. Strong resistance to bad weather and good landscape.
5. Outstanding environmental protection performance and low loss.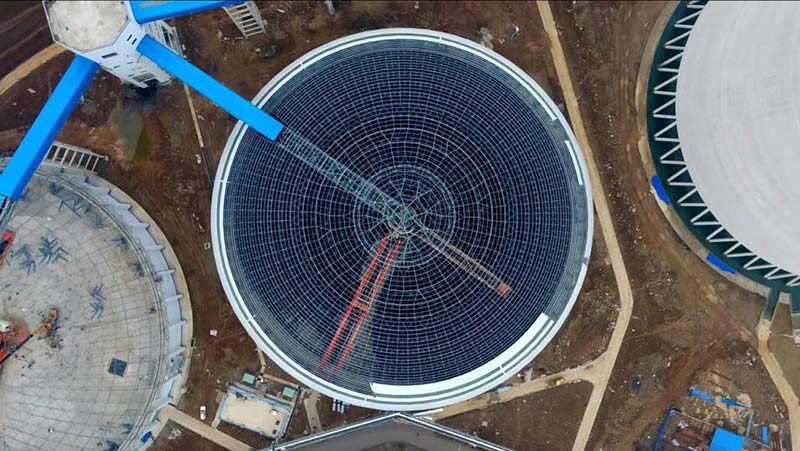 Choice of Closed Stockyard and Open-air Stockyard
Open-air stockyards have been widely used in power plants, building materials, mines, ports, and metallurgy industries. In the storage and processing of bulk materials, the material storage method of the open-air stockyard has the advantages of flexible process layout, mature process technology, high reliability of process equipment, mature civil engineering and other supporting facilities, etc. However, for the storage of bulk materials with special requirements such as moisture-proof, rain-proof, wind-proof, cold-proof and freeze-proof, closed stockyards are a better choice, and closed stockyards have obvious advantages over open-air stockyards in terms of energy saving, environmental protection, consumption reduction and land saving.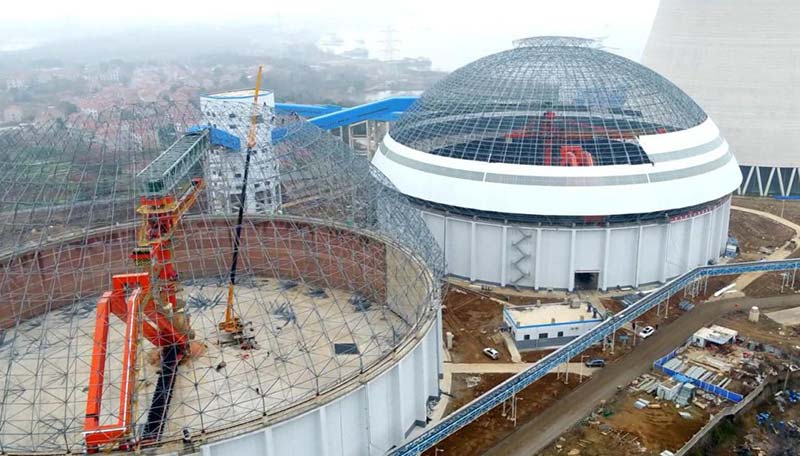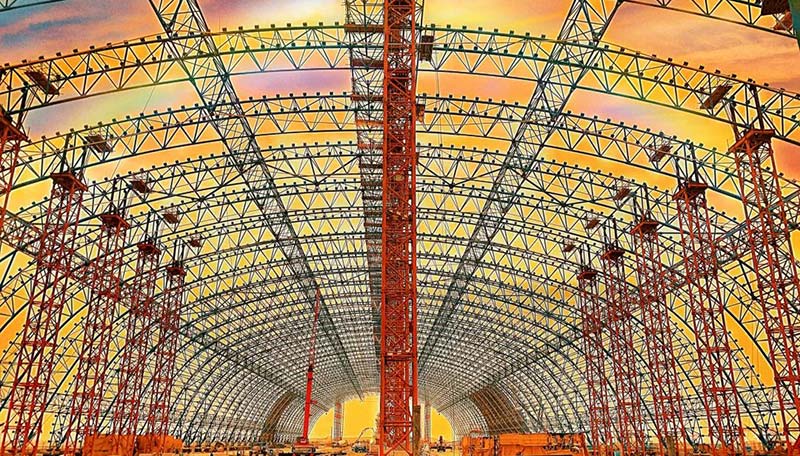 If you are interested in SRON's bulk material stockyard or want to know more details, please contact us, we will be happy to introduce our products to you and solve your doubts.
Please feel free to give your inquiry in the form below. We will reply you in 24 hours.