Brief information for Alumina Powder Steel Silo



Storage Material:
Alumina Powder
Storage Capacity:1000 - 30000 Tons
Silo Diameter: 12-36m
Application: Delivery, storage, big bag packaging, and bulk distribution of finished alumina in the alumina plant; unpacking, unloading, and transshipment of alumina in the electrolytic aluminum plant, and transporting alumina to the electrolytic cell.
Silo Type: Welded Steel Silo, Spiral Sealing Steel Silo
Silo Bottom Type: Flat Bottom, Cone Bottom
Alumina Silo System: Belt conveyor, silo top distributor, air chute, bucket elevator, pneumatic lift pump, silo conveying pump, silo bottom gasification discharge system, dust removal system, big bag packing machine, bulk packing machine, etc.


As a steel silo system solution company with 35+ years history, SRON provides customized and EPC services according to different functional needs, site and climate conditions and investment plans of each client's project.
If you are interested in our alumina silo system or would like to know specific storage silo price or details, please

contact us

.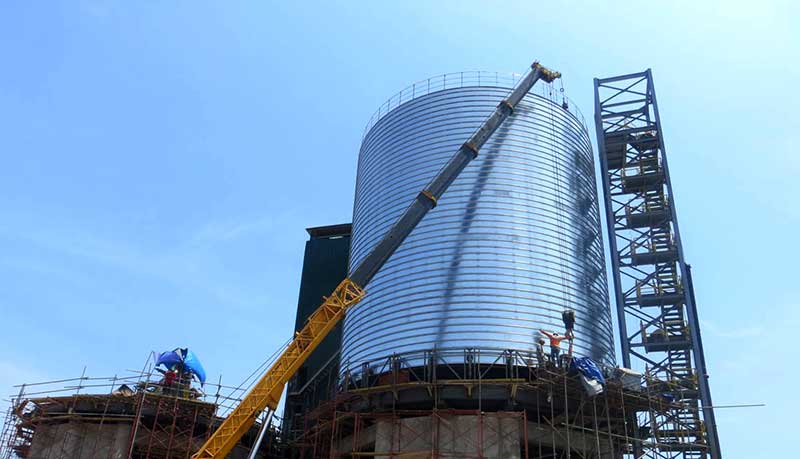 Alumina Steel Silo Introduction

Alumina Silo For Sale, also known as Alumina Powder Silo, Alumina Steel Silo. SRON has two common silos types: Welded Steel Silo and Spiral Silo to store alumina powder. Alumina silo system includes steel silos and supporting auxiliary equipment, built for the storage and transportation of alumina, and is widely used in alumina plant, aluminum ingot factories, refractory material factories, ceramic melting block factories, etc. SRON selects the most suitable and economical Alumina Powder Silo solution for clients according to their needs. At the same time, our sales staff and technical engineers can provide timely replies, professional silo knowledge and customized services according to clients' needs such as structure, silo design, silo capacity, and silo type.