Tubular Belt Conveyor
The tube belt conveyor is a special type of belt conveyor developed on the basis of the grooved belt conveyor. It uses several (usually six) rollers to force the conveyor belt to form a tubular, and convey various of loose materials such as powder, granule or block. The tubular belt conveyor is suitable for conveying bulk materials with density less than 2500kg/m3. The applicable working environment temperature is -25~40 ℃; It can meet the requirements of heat resistance, cold resistance, water proof, anti-corrosion, anti-explosion, flame retardant and other conditions.
Advantages
Sealed conveying of materials can reduce environmental pollution;
It can realize turning operation with small curvature radius;
The reciprocating operation of the belt can be used to realize two-way conveying;
If the tubular belt conveyor is selected, the trestle is not necessary, which saves the trestle cost;
Save space, save civil engineering and equipment investment, reduce the fault point and cost of equipment maintenance and operation.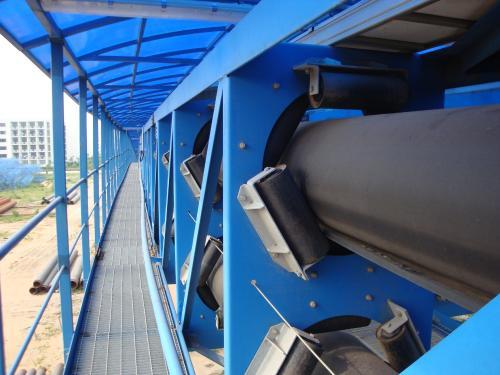 Please feel free to give your inquiry in the form below. We will reply you in 24 hours.